Electron Microscopy helps paint a picture of past Australian environment
The SEM image shows a fossilised 'tetrad' of 4 liverwort spores (Cingulasporites ornatus) from McGraths Flat, a newly discovered fossil site near Gulgong, NSW. The depicted pollen helped to date the fossil site as a ca. 15 million-year-old Miocene deposit
Decus et Tutanem by Michael Frese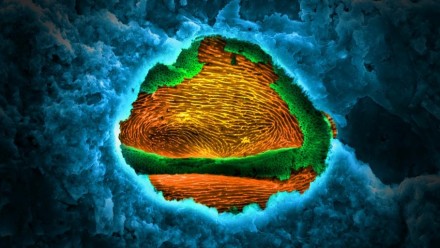 This colour enhanced SEM image shows an 'acritarch' microfossil (a fossil of uncertain origin: possibly algae or dinoflagelate). The fossil was found at McGrath's flat.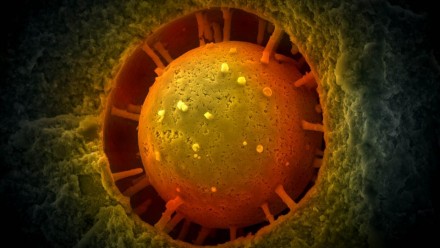 This colour enhanced SEM image shows a fossilised pollen grain (Nothofagaditis emarcidus/heterus) from an as-yet undated fossil site in NSW.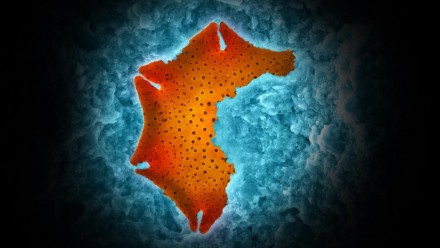 This SEM image shows a small colony of fossilised yeast cells (coloured orange). Almost all of the cells show bud and/or births scars (coloured blue). The fossils were found at McGraths Flat, a recently discovered fossil Lagerstätte near Gulgong (NSW)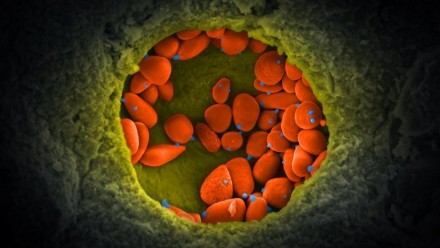 This colour enhanced SEM image shows a fossil pollen grain (Nothofagadites cf. deminitus) found at McGraths Flat. The depicted pollen helped to date the site as a mid-Miocene (15 million-year-old) deposit.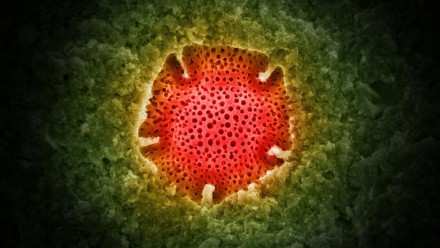 Images of microfossils taken at CAM are being used to help understand Australia's past environment, as part of the Australian Museum's Citizen Science project "Date a Fossil".
A team of scientists including A/Prof. Michael Frese (University of Canberra), Dr Matthew McCurry and Dr Tara Djokic (Australian Museum) enlisted the help of Dr Frank Brink and the FEI Quanta 650F Scanning Electron Microscope at CAM, to take thousands of SEM micrographs to search for microfossils preserved in the iron oxide mineral goethite.
Microfossils are usually smaller than 1 mm and include pollen, spores and cysts as well as a range of single cell or small multicellular organisms. Parts of larger organisms such as butterfly scales or teeth are also considered microfossils. The small size of most microfossils means that they cannot be seen with the naked eye and microscopy is often necessary to find them. Microfossils can be used to help build an understanding of past landscapes. Microfossils are often the key to determining the age of a fossil site and the climate conditions which reigned in the past.
The images taken by the research team have been presented to the public as part of the Australian Museum's Citizen Science program, which draws on the hive mind to help find, identify and date microfossils in the samples collected and imaged. The information gleaned so far has allowed the researchers to date their rock samples to the Miocene, a time in which Australia continued its northward movement as an island continent. Reduced rainfall during the Miocene triggered the transformation of most of Australia's rainforest into the shrublands, grasslands and deserts of today.
The Atlas of Living Australia (a National Collaborative Research Infrastructure Strategy (NCRIS) facility), is hosting this and other citizen science projects using their crowdsourcing tool DigiVol, which was developed in collaboration with the Australian Museum. You can join the project at: https://australian.museum/get-involved/citizen-science/date-a-fossil
See the image gallery below for some of the stunning, high resolution images taken by Michael Frese at CAM as part of this project.
For more information on this project visit:
Date a Fossil - The Australian Museum
Citizen science: imaging microfossils for the Australian Museum - Microscopy Australia