Zeiss UltraPlus analytical FESEM
ZEISS UltraPlus FESEM
Ferrous oxalate and manganese oxalate particles, by Joyce Yeoh. Image captured using the ZEISS UltraPlus FESEM.
From ordered to disordered, by Mahdiar Taheri. Image taken on Zeiss UltraPlus FESEM
Egg-splosive cells by Callum Kay: an UltraPlus FESEM image of rupturing immune cells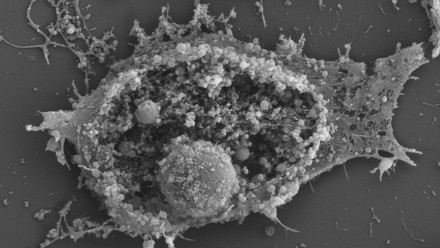 Fractal: an UltraPlus FESEM image captured by Thanh Tran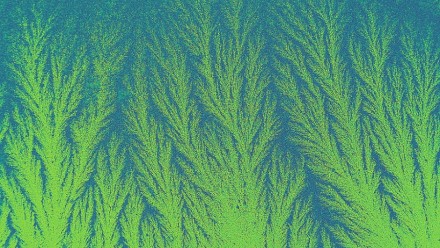 The Great Micro Reef by Ludovic Rapp: UltraPlus FESEM image of metal melting under intense femtosecond laser pulses interaction.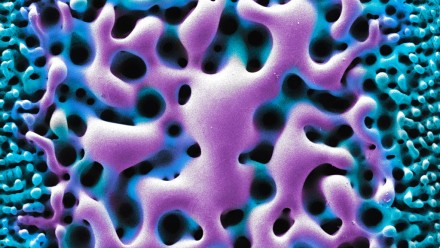 This FESEM is used for ultra high resolution application at low and high kV.
It is also used for electron back-scattered diffraction (EBSD), quantitative X-ray analysis, mapping, and variable pressure applications.
Features on this instrument include:
Five-axis motorised stage
Turbo and ion pump vacuum system
In-lens and below lens secondary electron detectors
Angular sensitive backscatter detector (AsB)
Energy sensitive backscatter detector (EsB)
Gas injection needle for variable pressure/charge compensation
Oxford Instruments INCA x-act EDXA system, 10mm2 Silicon Drift Detector (ATW, 129eV)
Oxford Instruments HKL EBSP
IR Chamber scope
Training
All new users receive one-on-one training.
Attending the Introduction to Scanning Electron Microscopy workshop will give users a deeper understanding of SEM and help users to improve the quality of their data.
Applications
X-ray analysis and X-ray mapping
High-resolution, low voltage imaging on non-conductive materials.